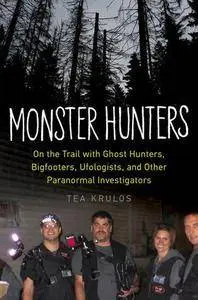 Monster Hunters: On the Trail with Ghost Hunters, Bigfooters, Ufologists, and Other Paranormal Investigators by Tea Krulos
English | June 1, 2015 | ISBN: 1613749813 | EPUB | 320 pages | 8 MB
Do ghosts exist? What about the Bigfoot, or Skinwalkers? And how will we ever know? Journalist Tea Krulos spent over a year traveling nationwide to meet individuals who have made it their life's passion to hunt down evidence of entities that they believe exist, but that others might shrug off as nothing more than myths, fairytales, or overactive imaginations.
Follow along with Krulos as he joins these believers in the field, exploring haunted houses, trekking through creepy forests, and scanning skies and lakes as they collect data on the unknown—poltergeists, Chupacabras, Skunk Apes (Bigfoot's stinky cousins), and West Virginia's Mothman. Along the way, he meets a diverse cast of characters—true believers, skeptics, and hoaxers—from the credible to the quirky. And in the end, Krulos leaves it to the reader to decide: are these people tilting at supernatural windmills, or are they onto something?