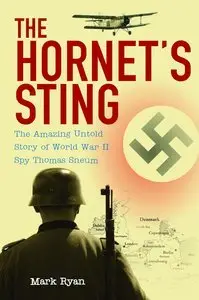 The Hornet's Sting: The Amazing Untold Story of World War II Spy Thomas Sneum by Mark Ryan
English | 2011 | ISBN-10: 1616081708 | EPUB | 408 pages | 0,8 MB
"A cross between James Bond and Robin Hood."—The Times [London].
Assassination by crossbow, refueling homemade planes in mid-air, mother and daughter seduction—Allied spy Tommy Sneum did it all during World War II.
The exploits of the Danish-born spy made him a legend in espionage circles. But until now, the full, extraordinary story of Sneum's action-packed career as a British-run spy has never been told.
From his incredible escape from Denmark in a battered Hornet Moth aircraft, which he refueled in mid-air, to his second escape, where he walked across a treacherous frozen sea on which two of his companions died, Ryan covers all of Sneum's thrilling adventures.
After escaping, Sneum leaked Nazi intelligence regarding radar installations in Denmark and an atom bomb. His reward? Imprisonment in Brixton as a suspected double agent. He cheated the hangman—but it is only with the publication of this enthralling book that Sneum can be celebrated as—in the words of Professor R.V. Jones, Churchill's chief of scientific intelligence—"one of the true heroes of World War II." 12 black-and-white photographs