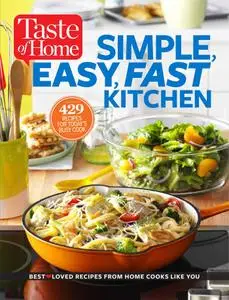 Taste of Home Simple, Easy, Fast Kitchen: 429 Recipes for Today's Busy Cook by Editors at Taste of Home
English | 2015 | ISBN: 1617653624 | 256 pages | EPUB | 53 MB
Busy mom's rejoice! Now it's easier than ever to whip up a workweek dinner, bake a classroom treat or toss together a crowd-pleasing favorite for a charity potluck—no matter how quickly the clock is ticking. With The Simple, Easy, Fast Kitchen from Taste of Home, you're always a moment away from a homemade delight.
Now busy family cooks can make the most of their time in the kitchen with this brand-new collection from Taste of Home. Featuring 429 recipes for everything from snacks and appetizers to quick dinners and bake-sale contributions, each dish was chosen with busy moms in mind. In fact, these recipes are actually shared by busy mom's who rely on the dishes to accommodate their own hectic lives. Four at-a-glance icons make it easy to find recipes that fit time crunches, and prep/cook timelines make meal planning a cinch. Hundreds of full-color photos, step-by-step instructions and two handy indexes make this a time-saving tool for any busy family.
CHAPTERS
Simply Easy Fast: Snacks & Munchies
Simple Easy Fast: Classroom & Bake Sale Treats
Simple Easy Fast: Breakfasts
Simple Easy Fast: Lunches & Brown Bag Favs
Simple Easy Fast: Dinners
Simple Easy Fast: Breads, Side Dishes & More
Simple Easy Fast: Potluck Specialties
Simple Easy Fast: Desserts
RECIPES
Gorgonzola & Cranberry Cheese Ball
Asparagus Appetizer Roll-Ups
Mushroom Cheese Bread
Overnight Pecan French Toast
Moo Shu Slopy Joes
Ham & Corn Chowder
Bacon Cheeseburger Salad
Cool-Kitchen Meat Loaf
Quick Chicken and Dumplings
Garlic Poppy See Spirals
Chocolate Trifle
Caramel Marshmallow Treats
Mint-Chocolate Ice Cream Cake
S'more Bars
My nickname -
interes