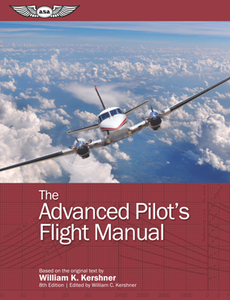 The Advanced Pilot's Flight Manual, 8th Edition
by William K. Kershner and William C. Kershner
English | 2015 | ISBN: 1619542137 | 385 Pages | PDF | 20 MB
The ultimate volume in the Kershner Flight Manuals Series, The Advanced Pilot's Flight Manual is for pilots transitioning to advanced models and types, and preparing for their Commercial Pilot knowledge and flight tests. It bridges the gap between theory and practical application, covering the fundamentals of airplane aerodynamics and aircraft performance.
This eighth edition, edited by William K. Kershner's son, William C. Kershner, is ideal for private pilots seeking additional training or those considering a career as a professional pilot. The commercial certificate opens up possibilities such as flying local charters to getting a flight instructor's license, and from flying a corporate high-performance airplane to flying for the airlines. Performing a wider variety of flying gives opportunities to see and experience aviation beyond the private license.
Illustrated by the author, this textbook includes subject on:
- Airplane performance and stability for pilots
- Checking out in advanced models and types
- Emergencies and unusual situations
- Advanced navigation
- High-altitude operations
- Preparing for the commercial knowledge and practical tests
If you want to support my blog, then you can buy a premium account through any of my files (i.e. on the download page of my book). In this case, I get a percent of sale and can continue to delight you with new books!