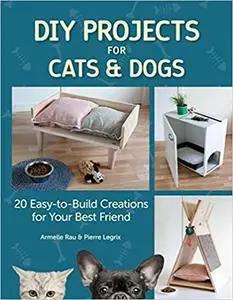 Armelle Rau, Pierre Legrix, "DIY Projects for Cats & Dogs: 20 Easy-to-Build Creations for Your Best Friend"
English | 2018 | ISBN: 1621871290 | 128 pages | EPUB / MOBI | 17.85 MB / 19 MB
Transform your home into a pet paradise!
20 DIY projects teach you how to make easy-to-build creations for your best friend
275 color photos offer inspiration, visual how-to, and helpful guidance
Step-by-step instructions, materials lists, and difficulty ratings for every project
Build a doghouse, hideaway litter box, food bowl stand, bike basket for your dog, cat teepee, leash rack, bedside table cabin, and much more
Save money by building pet fixtures yourself with found objects, scrap wood, simple materials, and basic tools
Modern, stylish designs let you shower your animals with love while decorating your home
Pamper your pet and save money at the same time with DIY Projects for Cats and Dogs!
Whether you're a beginner or an experienced DIYer, this book will teach you how to build inexpensive, functional accessories that will turn your home into a pet paradise! These charming furniture pieces will brighten up the house and please your pet in ways cookie cutter pet store products never could.
The perfect book for pet-loving DIYers, DIY Projects for Cats & Dogs is packed with step-by-step instructions, materials lists, and inspirational color photographs that accompany every imaginative creation—so that your DIY experience can be as straightforward as possible!
Authors Armelle Rau and Pierre Legrix built and pet-tested each project in their own home to ensure functionality and safety. These hand-made items will keep your pet entertained, hide unsightly necessities, and offer protection.
From a cat tree and wall-mounted scratching posts to dish stands and a Scandinavian bed platform, these stylish structures will take care of your pet's needs while preserving your interior décor. Best of all, each of these 20 easy-to-build DIY projects can be made in just one weekend, and without any special skills or costly tools!
The pet-friendly projects inside DIY Projects for Cats & Dogs include:
Radiator Cat Bed
Balcony Dining Table
Scratching Panels
Protective Window/Door Net
Wall-Mounted Cat Playhouse
Travel Basket
Rolling End Table Bed
Dish Stand with Built-In Storage
Tire Bed
…and many more!
You don't have to be an expert do-it-yourselfer to pamper your pets. All you need is a little patience, a little creativity, and the beginner-friendly guidance inside DIY Projects for Cats & Dogs!