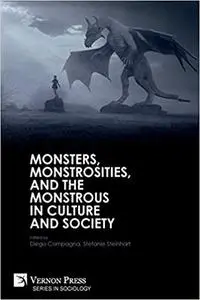 Diego Compagna, "Monsters, Monstrosities, and the Monstrous in Culture and Society "
English | ISBN: 1622739299 | 2020 | 428 pages | PDF | 6 MB
Existing research on monsters acknowledges the deep impact monsters have especially on Politics, Gender, Life Sciences, Aesthetics and Philosophy. From Sigmund Freud's essay 'The Uncanny' to Scott Poole's 'Monsters in America', previous studies offer detailed insights about uncanny and immoral monsters. However, our anthology wants to overcome these restrictions by bringing together multidisciplinary authors with very different approaches to monsters and setting up variety and increasing diversification of thought as 'guiding patterns'. Existing research hints that monsters are embedded in social and scientific exclusionary relationships but very seldom copes with them in detail. Erving Goffman's doesn't explicitly talk about monsters in his book 'Stigma', but his study is an exceptional case which shows that monsters are stigmatized by society because of their deviations from norms, but they can form groups with fellow monsters and develop techniques for handling their stigma.
Our book is to be understood as a complement and a 'further development' of previous studies: The essays of our anthology pay attention to mechanisms of inequality and exclusion concerning specific historical and present monsters, based on their research materials within their specific frameworks, in order to 'create' engaging, constructive, critical and diverse approaches to monsters, even utopian visions of a future of societies shared by monsters. Our book proposes the usual view, that humans look in a horrified way at monsters, but adds that monsters can look in a critical and even likewise frightened way at the very societies which stigmatize them.