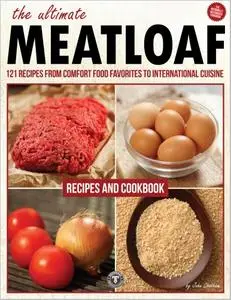 The Ultimate Meatloaf Cookbook: 121 Recipes From Comfort Food Favorites to International Cuisine by John Chatham
English | 2012 | ISBN: 1623150183 | 201 pages | EPUB | 7,4 MB
A COOKBOOK ABOUT MEATLOAF?
Sure, the days of red and white checkered curtains and matching aprons are somewhat passe. Meanwhile, some things remain timeless, like health, comfort food cravings and the shortage of hours in the day. And as for meatloaf, well, as The Ultimate Meatloaf Cookbook demonstrates, it just gets better with time.
Best selling cookbook author John Chatham pays homage to the traditional, time-saving recipe – ketchup, onions, oatmeal and all – while giving modern takes to the old-fashioned favorite. Featuring 121 delicious recipes this book opens an entire culinary world beyond the common loaf and its brother the leftover sandwich.
The Ultimate Meatloaf offers recipes from around the globe, from the beloved All-American Meatloaf to Hawaiian Style to the more exotic Greek, Mexican, Indian and Asian twists.
While traditional recipes suit the ever-popular protein diet, this cookbook provides vegetarian, vegan, gluten-free, low-salt, and low-carb alternatives. Easy step-by-step recipes stay true to meatloaf's greatest selling point – it provides a delicious hearty meal in no time at all.
- Bestselling cookbook author John Chatham provides the authoritative guide on the All-American favorite
- Features 121 meatloaf recipes from a breakfast Meatloaf Benedict to Crock Pot Meatloaf
- Offers hearty, healthy meals for every appetite and diet plan
- Simple, no hassle recipes just the way meatloaf was intended
The Ultimate Meatloaf Recipes and Cookbook is the modern day answer to an old-fashioned tradition, because some things never go out of style.
My nickname -
interes