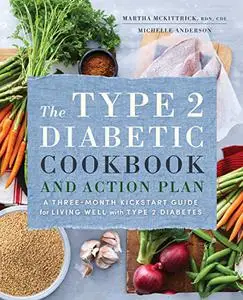 Martha Mckittrick RD, Michelle Anderson, "The Type 2 Diabetic Cookbook & Action Plan: A Three-Month Kickstart Guide for Living Well with Type 2 Diabetes"
English | 2017 | ISBN: 1623158338, 1435167384 | ASIN: B01N6T3IAG | EPUB | pages: 226 | 2.7 mb
Your diet and lifestyle starter plan for managing type 2 diabetes
Navigating life with type 2 diabetes can feel overwhelming, but The Type 2 Diabetic Cookbook & Action Plan is here to make it easier, with practical guidance and simple recipes. Registered dietician and certified diabetes instructor Martha McKittrick has teamed up with cookbook author Michelle Anderson to create a comprehensive cookbook and lifestyle guide to help you manage your diagnosis and live your best life.
- Diabetes basics―Find a quick refresher course on how type 2 diabetes affects your body and why your diet and habits are so important to staying well.
- A 3-month plan―Each month includes meal-planning, exercise, and mental and emotional wellness, so you can take a complete, holistic approach to managing diabetes.
- No guesswork―Detailed meal plans mean you won't have to wonder what to cook or how to cook it. Weeks of predetermined and diabetes-friendly recipes are right at your fingertips.
Live better with a diabetic cookbook that puts you on the path to long-term health.