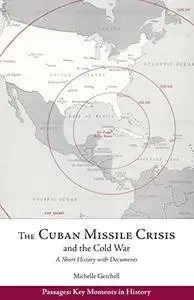 The Cuban Missile Crisis and the Cold War: A Short History with Documents (Passages: Key Moments in History) by Michelle Getchell
2018 | ISBN: 1624667414, 1624667422 | English | 200 pages | EPUB | 2 MB
In October 1962, when the Soviet Union deployed nuclear missiles in Cuba, the most dangerous confrontation of the Cold War ensued, bringing the world close to the brink of nuclear war. Over two tense weeks, U.S. president John F. Kennedy and Soviet premier Nikita Khrushchev managed to negotiate a peaceful resolution to what was nearly a global catastrophe.
Drawing on the best recent scholarship and previously unexamined documents from the archives of the former Soviet Union, this introductory volume examines the motivations and calculations of the major participants in the conflict, sets the crisis in the context of the broader history of the global Cold War, and traces the effects of the crisis on subsequent international and regional geopolitical relations.
Selections from twenty primary sources provide firsthand accounts of the frantic deliberations and realpolitik diplomacy between the U.S., the U.S.S.R., and Fidel Castro's Cuban regime; thirteen illustrations are also included.