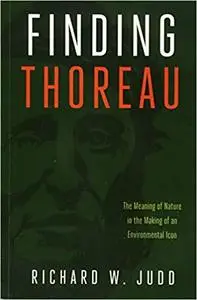 Richard W. Judd, "Finding Thoreau: The Meaning of Nature in the Making of an Environmental Icon"
ISBN: 1625343884, 1625343892 | 2018 | EPUB | 232 pages | 2 MB
In his 1862 eulogy for Henry David Thoreau, Ralph Waldo Emerson reflected that his friend "dedicated his genius with such entire love to the fields, hills, and waters of his native town, that he made them known and interesting to all reading Americans, and to people over the sea." Finding Thoreau traces the reception of Thoreau's work from the time of his death to his ascendancy as an environmental icon in the 1970s, revealing insights into American culture's conception of the environment.
Moving decade by decade through this period, Richard W. Judd unveils a cache of commentary from intellectuals, critics, and journalists to demonstrate the dynamism in the idea of nature, as Americans defined and redefined the organic world around them amidst shifting intellectual, creative, and political forces. This book tells the captivating story of one writer's rise from obscurity to fame through a cultural reappraisal of the work he left behind.