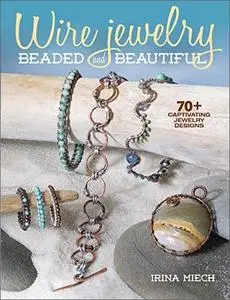 Wire Jewelry: Beaded and Beautiful: 24 Captivating Jewelry Designs by Irina Miech
English | June 6, 2017 | ISBN: 1627003916 | PDF | 112 pages | 113 MB
Noted designer and author Irina Miech returns to her favorite medium with Wire Jewelry: Beaded and Beautiful, a collection of 24+ timeless wire jewelry projects beginners can create with a minimum investment in tools and materials.
Using a clear, illustrative teaching style, Irina introduces standard wire techniques like wrapping loops, spirals, and zig-zags; hammering; creating simple clasps, and much more. Jewelry makers can apply their new skills to beautiful earrings, rings, pendants, bracelets, necklaces, and captured cabochons that have a timeless, classic look and feel.
The focus is on materials and tools readily available at national retailers and independent bead shops alike: base metals, beads, semiprecious stones, and cabochons in various sizes and shapes. Even the findings — chain, clasps, and jump rings — are easy to find. With Wire Jewelry: Beaded and Beautiful, jewelry makers at every level will be able to create timeless jewelry pieces using standard techniques and materials.