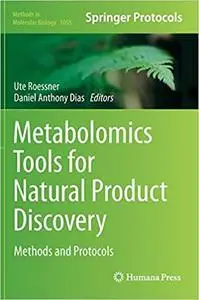 Ute Roessner, Daniel Anthony Dias, "Metabolomics Tools for Natural Product Discovery: Methods and Protocols"
English | 2013 | pages: 313 | ISBN: 1627035761 | PDF | 5,0 mb
Classical natural product chemistry is transitioning to modern day metabolomics as a result of the advent of comprehensive analytical platforms and sensitive analytical instrumentation. Therefore, it is worthwhile to summarize recent developments with current analytical platforms and highlight how metabolomics is being integrated into this classical field to dereplicate and profile natural product extracts. Metabolomics Tools for Natural Product Discoveries: Methods and Protocols aims to unite diverse and recently developed methodologies and protocols in order to identify bioactive secondary metabolites for the purpose of drug discovery. Some topics covered in this volume include applications for the extraction of selected natural products from less common sources such as bryophytes and hard corals, various biological assays, comprehensive applications and strategies for GC-MS, LC-MS, and NMR, as well as protocols and strategies for the structure elucidation of isolated natural products.  Written in the successful Methods in Molecular Biology series format, chapters include introductions to their respective topics, lists of the necessary materials and reagents, step-by-step, readily reproducible protocols, and notes on troubleshooting and avoiding known pitfalls. 
Authoritative and easily accessible Metabolomics Tools for Natural Product Discoveries: Methods and Protocols seeks to serve both professionals and research students with its well-honed methodologies for natural product isolation, biomarker discovery, dereplication, biological assays, and comprehensive metabolomic platforms available for high-throughput analyses.
My Link