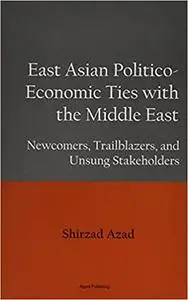 East Asian Economic Ties With the Middle East: Newcomers, Trailblazers, and Unsung Stakeholders by Shirzad Azad
English | October 15, 2019 | ISBN: 1628944056, 1628944048 | 181 pages | PDF | 1 MB
Iran's strategic position, economically and geographically, has suddenly become more apparent. How is the US handling the new global realities?
China with its Belt and Road, Hong Kong, Taiwan, Japan and the Koreas all have a stake in the development of Middle Eastern states, whether Persian, Arab or Turkic. While the U.S. acts as if the Middle East were somehow its own colony to exploit, other states are actively building mutually beneficial cultural and commercial ties, and they're boosting each other's development. The author reviews the various players and outlines the array of positive steps they are taking to build a strong future together. This provides a backdrop for Americans to ponder whether our approach is the most productive.
My nickname -
interes