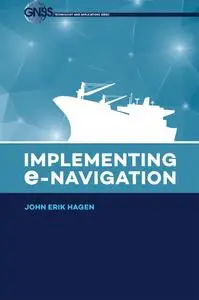 Implementing e-Navigation
Artech House | English | 2017 | ISBN-10: 1630810991 | 220 pages | PDF | 3.47 MB
by John Erik Hagen (Author)
This one-of-a-kind new resource, written by an expert in the field, provides a comprehensive introduction to global e-navigation. This book presents the vision, development, and objectives of this strategy to increase awareness, safety, and security in the navigation of commercial shipping. Current equipment and practices of maritime navigation are discussed including ship reporting, shore based services, communications, and challenges in vessel travel services (VTS) and port areas. This book identifies performance gaps and demonstrates how to identify user needs as well as solutions through gap analysis. E-navigation architectures, solutions, and standards are explored.
Readers find useful insight into how new concepts of e-navigation are being adapted internationally and some of the difficulties that will need to be overcome. This resource focuses on the use of e-navigation in security, cyber security, environmental protection, communications, and global and technical standardization. Navigation equipment, systems, displays, bridge systems, and other current equipment and practices are explored in this book. Readers get a look into the future of e-navigation, including the impact that digital globalization, unmanned ships, and big data will have on this strategy.
Feel free to contact me for book requests when possible, informations or feedbacks. Also, those who support me: You're the real MVPs.