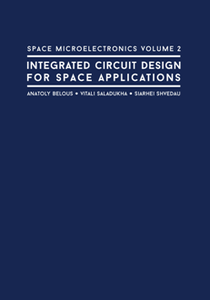 Space Microelectronics, Volume 2 :
Integrated Circuit Design for Space Applications
by Anatoly Belous, Vitali Saladukha
English | 2017 | ISBN: 1630812595 | 629 Pages | PDF | 27 MB
This invaluable second volume of a two-volume set is filled with details about the integrated circuit design for space applications. Various considerations for the selection and application of electronic components for designing spacecraft are discussed. The basic constructions of submicron transistors and schottky diodes during the technological process of production are explored. This book provides details on the energy consumption minimization methods for microelectronic devices.
Specific topics include:
- Features and physical mechanisms of the effect of space radiation on all the main classes of microcircuits, including peculiarities of radiation impact on submicron integrated circuits;
- Special design, technology, and schematic methods of increasing the resistance to various types of space radiation;
- Recommendations for choosing research equipment and methods for irradiating various samples;
- Microcircuit designers on the composition of test elements for the study of the effect of radiation;
- Microprocessors, circuit boards, logic microcircuits, digital, analog, digital–analog microcircuits manufactured in various technologies (bipolar, CMOS, BiCMOS, SOI);
- Problems involved with designing high speed microelectronic devices and systems based on SOS-and SOI-structures;
- System-on-chip and system-in-package and methods for rejection of silicon microcircuits with hidden defects during mass production.