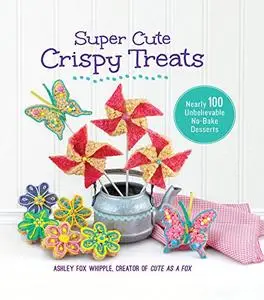 Ashley Fox Whipple, "Super Cute Crispy Treats: Nearly 100 Unbelievable No-Bake Desserts"
English | 2015 | pages: 181 | ISBN: 1631060791 | PDF | 26,5 mb
A healthier alternative to traditional desserts, moms and kids alike will love creating these incredible, no-bake, recipes featuring their favorite cereal treats.
In Super Cute Crispy Treats, food crafting expert Ashley Fox Whipple will show you over 100 ways to make an extraordinary crispy treat. Experiment with all new flavors like Caramel and Sea Salt, Kool-Aid, Peanut Butter and Jelly, and Pretzel and Chocolate. For parties, go beyond the ordinary square with 3D sculptures like apple-shaped crispy treats, ice cream cone treats, topiary treats, crispy donut treats, and more. Try your hand at Crispy Treat Pops and even Crispy Treat Layer and Wedding Cakes.
With a special chapter on gluten-free and low-sugar crispy treats, there is a recipe in here for everyone, and you'll be inspired to whip up a quick batch of Super Cute Crispy Treats today!
My Link