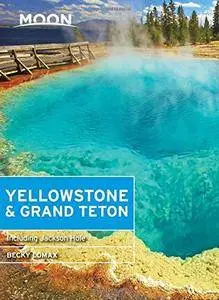 Becky Lomax, "Moon Yellowstone & Grand Teton (Moon Handbooks)"
English | ISBN: 1631212648 | 2016 | EPUB | 424 pages | 14 MB
Join writer and avid explorer Becky Lomax for an unforgettable experience. With her unique perspective and advice you can trust, Moon Yellowstone and Grand Teton has everything you need to know to have a more personal and memorable experience.
Welcome the land of fire and ice. Moon Yellowstone and Grand Teton shows you what you need to know to plan the perfect trip for you. Explore the geysers and vivid cauldrons of acid and water created by the supervolcano hidden under the mountainous greenery and alien beauty of Yellowstone National Park, and marvel at the mountainous spires of the Rockies and the glacier-smoothed lakes and canyons of Grand Teton National Park. Along with trip ideas like "One Day in Yellowstone" and "Winter Fun", Lomax includes suggestions for the best places to spot elk, bison, bears, and wolves, and tips on which hikes have the most stunning views.
With expertly crafted maps and gorgeous photos, this full-color guidebook gives you the tools you need to have an immersive and unique experience.
Moon Yellowstone and Grand Teton includes areas such as:
North Yellowstone
Old Faithful and West Yellowstone
Canyon and Lake Country
North Grand Teton
South Grand Teton
Jackson Hole
Find the Moon guide that best suits your trip!
Interested in more of our nations greatest National Parks? Try Moon Yosemite, Sequoia, and Kings Canyon, or Moon Death Valley National Park.