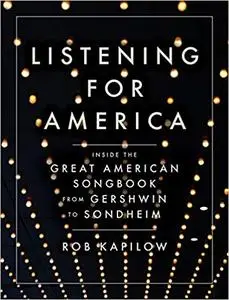 Rob Kapilow, "Listening for America: Inside the Great American Songbook from Gershwin to Sondheim"
ISBN: 163149029X | 2019 | EPUB | 480 pages | 19 MB
"Not since the late Leonard Bernstein has classical music had a combination salesman-teacher as irresistible as Kapilow." ―Kansas City Star
Few people in recent memory have dedicated themselves as devotedly to the story of twentieth- century American music as Rob Kapilow, the composer, conductor, and host of the hit NPR music radio program, What Makes It Great? Now, in Listening for America, he turns his keen ear to the Great American Songbook, bringing many of our favorite classics to life through the songs and stories of eight of the twentieth century's most treasured American composers―Kern, Porter, Gershwin, Arlen, Berlin, Rodgers, Bernstein, and Sondheim. Hardly confi ning himself to celebrating what makes these catchy melodies so unforgettable, Kapilow delves deeply into how issues of race, immigration, sexuality, and appropriation intertwine in masterpieces like Show Boat and West Side Story. A book not just about musical theater but about America itself, Listening for America is equally for the devotee, the singer, the music student, or for anyone intrigued by how popular music has shaped the larger culture, and promises to be the ideal gift book for years to come.
100 music examples