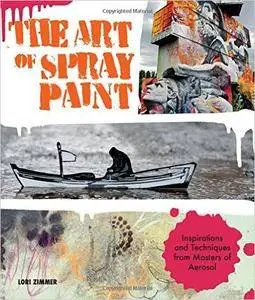 Lori Zimmer, "The Art of Spray Paint: Inspirations and Techniques from Masters of Aerosol"
ISBN: 1631591460 | 2017 | PDF | 160 pages | 112 MB
Discover the totally unexpected, beautiful and intricate art created using the easily accessible medium.
The Art of Spray Paint showcases the grand and imaginative scale of spray paint art and design. Inside, you'll find jaw-dropping spray paint creations from around the world! You'll discover the process of each art form, as well as tricks of the trade, from small clever projects to huge art installations.
Much more than a book about "cool" spray paint designs, Lori Zimmer guides you through amazing large-scale art production, immersive environments, working from intuition, collaboration, the artist's role in society, alternative creative economies, contemporary mythology, storytelling, DIY projects and more.
With such a readily available medium, what will you create?
Contributors include: CRASH, PichiAvo, BR163, Logan Hicks, Joe Iurato, Nick Walker, Caroline Caldwell, Casey Gray, Tristan Eaton, Matt Eaton, Hueman, Elle, Tatiana Suarez, Conor Harrington, Remi Rough, Will Hutnick, Rubin415, Rebecca Paul, Zac Braun, Ian Kuali'i, Ele Pack, Dana Oldfather