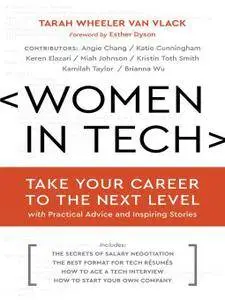 Women in Tech: Take Your Career to the Next Level with Practical Advice and Inspiring Stories by Tarah Wheeler Van Vlack and Esther Dyson
English | 2016 | ISBN: 1632170663, 1632171406 | 272 pages | EPUB | 2,5 MB
Geared toward women who are considering getting into tech, or those already in a tech job who want to take their career to the next level, this book combines practical career advice and inspiring personal stories from successful female tech professionals Brianna Wu (founder, Giant Spacekat), Angie Chang (founder, Women 2.0), Keren Elazari (TED speaker and cybersecurity expert), Katie Cunningham (Python educator and developer), Miah Johnson (senior systems administrator), Kristin Toth Smith (tech executive and inventor), and Kamilah Taylor (mobile and social developer).
Written by a female startup CEO and featuring a host of other successful contributors, this book will help dismantle the unconscious social bias against women in the tech industry. Readers will learn:
· The secrets of salary negotiation
· The best format for tech resumes
· How to ace a tech interview
· The perks of both contracting (W-9) and salaried full-time work
· The secrets of mentorship
· How to start your own company
· And much more
Bonus content:
Perfect for its audience of hackers and coders, the book contains puzzles and code, created as love letters to women in the tech industry. A distinguished anonymous contributor created the Python code for the cover of the book (ghosted in gloss on the hardcover jacket, and also printed on one of the first pages). It references the mother of computer science, Ada Lovelace. Run the code to see what it does!
Mike Selinker and Gaby Weidling of Lone Shark Games, and cryptographer and DefCon puzzle master Ryan "LostboY" Clarke created an "easter egg" of puzzles throughout the book - readers who decipher the puzzles get a prize from the author!