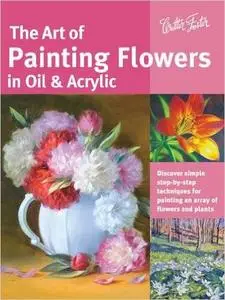 The Art of Painting Flowers in Oil & Acrylic: Discover simple step-by-step techniques for painting an array of flowers and plants by David Lloyd Glover
English | 2015 | ISBN: 1633220133 | 144 pages | PDF | 37 MB
This comprehensive book opens with a guide to essential information on the necessary tools and materials for both sketching and painting, including pencils, paints and brushes, palettes, supports, and mediums. In addition to learning about basic drawing and painting techniques and color theory, readers will learn how to create compelling compositions, achieve depth, and render realistic textures. In The Art of Painting Flowers in Oil & Acrylic, several talented and experienced artists guide readers through easy-to-follow lessons covering a variety of floral and plant life, including tulips, dahlias, hibiscus, roses, daisies, freesia, water lilies, bird of paradise, and more. With sections devoted to both mediums, readers will learn everything they need to know to create beautiful floral works of art in oil and acrylic. Along the way, aspiring artists will discover helpful tips and tricks for mixing vibrant colors, working from photographs, working outdoors, and creating volume and dimension.
My nickname -
interes