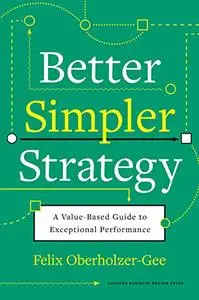 Better, Simpler Strategy: A Value-Based Guide to Exceptional Performance
by Felix Oberholzer-Gee
English | 2021 | ISBN: 1633699692 | 319 Pages | PDF True | 23 MB
In nearly every business segment and corner of the world economy, the most successful companies dramatically outperform their rivals. What is their secret? In Better, Simpler Strategy, Harvard Business School professor Felix Oberholzer-Gee shows how these companies achieve more by doing less. At a time when rapid technological change and global competition conspire to upend traditional ways of doing business, these companies pursue radically simplified strategies. At a time when many managers struggle not to drown in vast seas of projects and initiatives, these businesses follow simple rules that help them select the few ideas that truly make a difference.