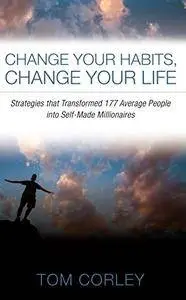 Change Your Habits, Change Your Life: Strategies that Transformed 177 Average People into Self-Made Millionaires by Tom Corley
English | 11 Mar. 2016 | ISBN: 1635050049 | ASIN: B01CVWR386 | 157 Pages | AZW3 | 1.8 MB
"Your daily habits determine if you will be rich, poor or stuck in the middle-class. Tom Corley's book will set you on a path towards success for you and your entire family."
– Jack Canfield CEO Canfield Training Group and Bestselling Author of Chicken Soup for the Soul
Change Your Habits, Change Your Life is the follow-up to Tom Corley's bestselling book Rich Habits. Thanks to his extensive research of the habits of self-made millionaires, Corley has identified the habits that helped transform ordinary individuals into self-made millionaires. Success no longer has to be a secret passed down among only the elite and the wealthy. No matter where you are in life, Change Your Habits, Change Your Life will meet you there, and guide you to success. In this book, you will learn about:
• Why we have habits
• Habits that create wealth or poverty, or keep you stuck in the
middle class
• Habits that increase your IQ
• Habits that reduce disease and increase longevity
• Habits that eliminate depression and increase happiness
• Strategies that will help you find your main purpose in life
• Tricks to help you fast track habit change
Change Your Habits Change Your Life shares the strategies and habits that helped 177 self-made millionaires transform their lives and amass enourmous wealth. You will also learn about those habits that hold you back in life from achieving success and happiness. By using the habit change strategies in this book, readers will aquire the three characteristics of success, setting them on a path that will alter their very lives for the better. The success habits I will share with you will enable you to focus, every day, on pursuing success. Each good habit you add to your life will have a cumulative effect on your life. These habits are an investment in your individual success. Getting control of your habits is empowering. It gives you a sense of control over your life. Your new habits will not only put you on the path to success, they will also put you on the path to happiness. Your life will never be the same.