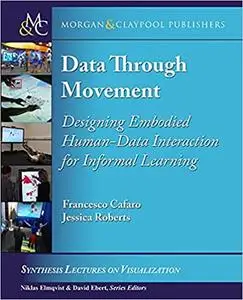 Data through Movement: Designing Embodied Human-Data Interaction for Informal Learning
by Francesco Cafaro and Jessica Roberts
English | 2021 | ISBN: 1636391524 | 147 pages | True PDF | 62.51 MB
When you picture human-data interactions (HDI), what comes to mind? The datafication of modern life, along with open data initiatives advocating for transparency and access to current and historical datasets, has fundamentally transformed when, where, and how people encounter data. People now rely on data to make decisions, understand current events, and interpret the world. We frequently employ graphs, maps, and other spatialized forms to aid data interpretation, yet the familiarity of these displays causes us to forget that even basic representations are complex, challenging inscriptions and are not neutral; they are based on representational choices that impact how and what they communicate. This book draws on frameworks from the learning sciences, visualization, and human-computer interaction to explore embodied HDI. This exciting sub-field of interaction design is based on the premise that every day we produce and have access to quintillions of bytes of data, the exploration and analysis of which are no longer confined within the walls of research laboratories. This volume examines how humans interact with these data in informal (not work or school) environments, paritcularly in museums.
The first half of the book provides an overview of the multi-disciplinary, theoretical foundations of HDI (in particular, embodied cognition, conceptual metaphor theory, embodied interaction, and embodied learning) and reviews socio-technical theories relevant for designing HDI installations to support informal learning. The second half of the book describes strategies for engaging museum visitors with interactive data visualizations, presents methodologies that can inform the design of hand gestures and body movements for embodied installations, and discusses how HDI can facilitate people's sensemaking about data.
This cross-disciplinary book is intended as a resource for students and early-career researchers in human-computer interaction and the learning sciences, as well as for more senior researchers and museum practitioners who want to quickly familiarize themselves with HDI.