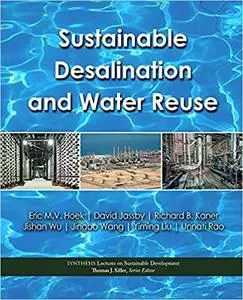 Sustainable Desalination and Water Reuse
by David Jassby
English | 2021 | ISBN: 1636391893 | 206 pages | PDF | 10.42 MB
Over the past half century, reverse osmosis (RO) has grown from a nascent niche technology into the most versatile and effective desalination and advanced water treatment technology available. However, there remain certain challenges for improving the cost-effectiveness and sustainability of RO desalination plants in various applications. In low-pressure RO applications, both capital (CAPEX) and operating (OPEX) costs are largely influenced by product water recovery, which is typically limited by mineral scale formation. In seawater applications, recovery tends to be limited by the salinity limits on brine discharge and cost is dominated by energy demand. The combination of water scarcity and sustainability imperatives, in many locations, is driving system designs towards minimal and zero liquid discharge (M/ZLD) for inland brackish water, municipal and industrial wastewaters, and even seawater desalination. Herein, we review the basic principles of RO processes, the state-of-the-art for RO membranes, modules and system designs as well as methods for concentrating and treating brines to achieve MLD/ZLD, resource recovery and renewable energy powered desalination systems. Throughout, we provide examples of installations employing conventional and some novel approaches towards high recovery RO in a range of applications from brackish groundwater desalination to oil and gas produced water treatment and seawater desalination.