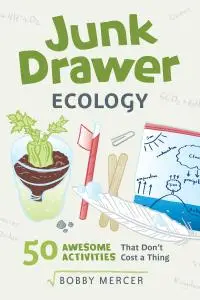 Junk Drawer Ecology: 50 Awesome Experiments That Don't Cost a Thing (Junk Drawer Science) by Bobby Mercer
English | Dec 14, 2021 | ISBN: 1641605499 | 262 pages | EPUB | 9 MB
Kids of all ages can use recycled and repurposed household items to complete exciting and green ecology experiments
Junk Drawer Ecology is a hands-on guide to saving the planet. Fun, free science activities help kids of all ages learn about the science of our planet's ecology. The environment is changing every day, and we can help slow that change. Using free or low-cost things children already have around their homes, these activities are perfect to stimulate young brains.
Readers will learn about the importance of the polar regions without leaving their communities, about new ways to cut our dependence on fossil fuels, about all forms of pollution, and how they can make a difference.
Junk Drawer Ecology will give inquisitive kids many hours of fun and help them learn at the same time.