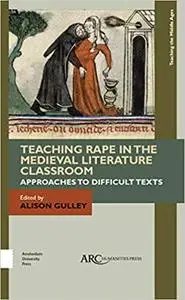 Alison Gulley, "Teaching Rape in the Medieval Literature Classroom: Approaches to Difficult Texts "
English | ISBN: 1641890320 | 2018 | 226 pages | PDF | 14 MB
Teachers of medieval literature help students bridge the temporal, contextual, and linguistic gulfs between the Middle Ages and the twenty-first century. When episodes involving rape are thrown into the mix, that task becomes even more difficult. The essays in this volume approach these difficult texts in ways that are both academically and ethically sound, recognizing that students and teachers bring a variety of experiences to the classroom that necessarily color the reception of a given work. At a time when colleges and universities are tasked with finding new solutions to the problem of sexual violence, this volume proposes ways educators can help students navigate the perceived divide between in- and out-of-class experiences. The contributors―from community colleges, small liberal arts colleges, and large state universities―offer suggestions for classroom activities and assignments for a range of medieval texts, as well as insight into the concerns of students in various settings.