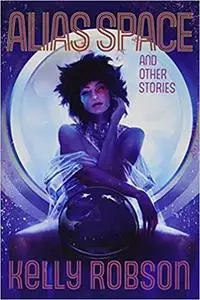 Kelly Robson, "Alias Space"
English | 2021 | ISBN: 1645240258 | 420 pages | EPUB | 0.74 MB
Alias Space and Other Stories is the first fiction collection from Nebula Award-winning writer Kelly Robson, who vaulted onto the Science Fiction, Fantasy, and Horror stage in 2015, earning spots in multiple Year's Best anthologies. This volume collects Robson's best stories to date, along with exciting new work, and notes to accompany each piece. Robson's stories are noted for their compassion, humanity, humor, rigor, and joy. This volume includes the chilling gothic horror "A Human Stain," winner of the 2018 Nebula Award; the madcap historical fantasy "Waters of Versailles," which was a finalist for both the Nebula and World Fantasy Awards; and science fiction stories such as the touching Intervention, chilling "The Three Resurrections of Jessica Churchill," obscene "What Gentle Women Dare," heartbreaking "Two-Year Man," and many others. These fourteen stories showcase Robson's whip-smart richness of invention, brilliant storytelling, deep worldbuilding, and devilish sense of humor.