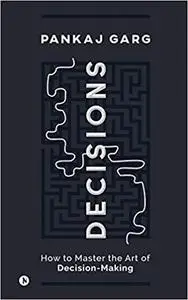 Decisions: How to Master the Art of Decision-Making by Pankaj Garg
English | January 2, 2020 | ISBN: 164760740X | 152 pages | EPUB | 3 MB
"We make decisions, but decisions make our life."
All of us need to make decisions that may be major or minor. One good decision can work wonders and dramatically change our lives forever. Similarly, one bad decision can prove disastrous and make life horrible. So ultimately, our life is a sum total of the decisions we make. This highlights the fact that decision making is the most important thing we do throughout our lives. If the decision making process is so vital, then shouldn't an all-out effort be made to improve this process? Surprisingly and unfortunately, most of us never try to do so!
There must be ways and methods to improve the process of decision making. There must be a way to standardize the process of decision making so that the chances of error are minimized. Can we learn this art and teach it to our children? There is very little literature available on this topic.
Decisions is a book that is all about mastering the art of decision making by understanding and standardizing its concepts.