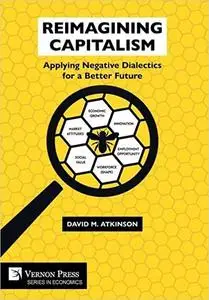 Reimagining Capitalism: Applying Negative Dialectics for a Better Future
by Atkinson, David M.;
English | 2023 | ISBN: 1648895956 | 456 pages | True PDF | 9.45 MB

The Covid-19 pandemic reinforced the perception that capitalism is in crisis, that the future is volatile, uncertain, complex and ambiguous, and that, increasingly, our thinking about it and ability to manage and organize ourselves within it, are challenges we are ill-equipped for. Despite the efforts of many writers, and a surfeit of manuscripts concerning the need to rethink capitalism, questions concerning the struggle for social and economic justice remain unanswered. While some suggest that with corrective action, businesses can save the world, there is an acceptance that they cannot do so alone. However, while governments might strengthen their institutions, enacting more effective policies, the challenge is simply laid bare at the feet of industry and commerce. Is the challenge to confront the establishment just too big to face? Government institutions and the barons of industry and commerce are but interrelated, interconnected, interplaying components in one socio-economic system. This book offers readers a progressive, radical and academic provocation of that system; it also proposes a field of Applied Negative Dialectics. In 'Reimagining Capitalism', Atkinson confronts the need to rethink capitalism and presents an integrated range of thinking through a lens of applied negative dialectics, questioning how and why things might have occurred, and where and how we might begin to improve them.