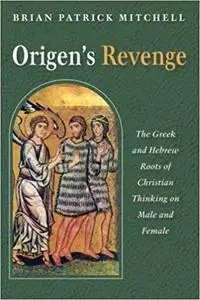 Brian Patrick Mitchell, "Origen's Revenge: The Greek and Hebrew Roots of Christian Thinking on Male and Female"
English | ISBN: 1666700150 | 2021 | 280 pages | PDF | 2 MB
Is the difference of male and female to be "completely shaken off" so that men and women are no longer men and women but merely human beings? The great seventh-century saint Maximus the Confessor said yes, but such thinking is difficult if not impossible to reconcile with much else in Christian tradition that obliges men and women to live as either men or women.
Origen's Revenge contrasts the two main sources of early Christian thinking on male and female: the generally negative view of Greek philosophy, limiting sexual distinction to the body and holding the body in low regard, and the much more positive view of Hebrew Scripture, in which sexual distinction and reproduction are both deemed naturally good and necessary for human existence. These two views account for much of the controversy in early Christianity concerning marriage and monasticism. They also still contribute to current controversies over sex roles, gender identity, and sexual ethics.
Read more