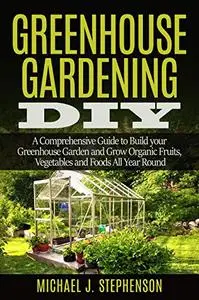 Greenhouse Gardening DIY: A Comprehensive Guide to Build your Greenhouse Garden and Grow Organic Fruits, Vegetables and Foods All Year Round by Michael J. Stephenson
2019 | ISBN: 1677860634 | English | 147 pages | PDF | 1 MB
What makes a greenhouse special? Why it is so beneficial to the environment, as well as to yourself and your own life? How to manage your greenhouse and how to take advantage of whatever space you have?
If you are looking for the answers, this is the right book for you.
This book introduces you to the different systems and day-to-day management of the greenhouse environment. It will help you grow any type of plant you choose to grow in your greenhouse. It specifically answers the following questions including:
How to build a greenhouse?
How to secure your greenhouse against wind damage?
How to grow tomatoes in a greenhouse?
What are the common greenhouse problems and what to do about them?
What are the strategies for insect and mite management?
This book will teach you about the different structures and types of greenhouses. You'll learn about the important facts that can help you with daily greenhouse routines. You'll learn how to harvest the plants.
If you're looking to become a DIY gardening professional in the greenhouse area, then this book is for you. It will show you how best greenhouses work and how healthy plants survive. Even if you are a beginner or a professional, this book will help you make your greenhouse gardening dream come true.