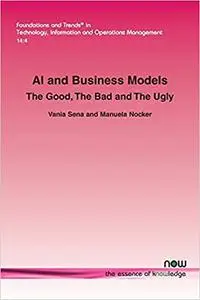 AI and Business Models: The Good, The Bad and The Ugly (Foundations and Trends(r) in Technology, Information and Ope)
by Vania Sena
English | 2021 | ISBN: 168083794X | 82 pages | True PDF | 6.34 MB
AI and Business Models summarizes the literature on AI and business model innovation. The main hypothesis is that the deployment of AI across an industry creates new mechanisms for value creation in an industry and in turn results in new firms generating value in an industry as incumbent firms may no longer be as competitive as in the past - the so called "value migration" phenomenon. Given the lack of data on AI, this monograph relies on qualitative studies as well as grey literature that underpins much of the research in the field. In this respect, a key purpose of the exercise is to identify where formal research is needed to help us to understand how business models change as the diffusion of AI across economies accelerates. Following an introduction, section 2 provides a brief introduction to AI and its different varieties. Section 3 focuses on value migration in an industry and business models. Section 4 provides a taxonomy of the new business models that have emerged as a result of AI and discusses the main features of these new business models. Section 5 analyzes the key factors that drive the emergence of new business models. Finally, Section 6 offers concluding remarks as well as reflections on existing gaps in our knowledge of business models that can inform future research in the field.