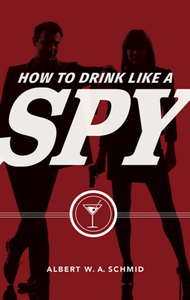 How to Drink Like a Spy
by Albert W. A. Schmid
English | 2019 | ISBN: 1684350905 | 131 Pages | PDF/ePub | 5.36 MB
Most of us will never live the life of an international spy, but that doesn't mean that we can drink like one!
Just about everyone knows James Bond's classic martini order, 'shaken, not stirred', but here you will discover new favorites from beloved novels like those by Ian Fleming and Tom Clancy and big screen blockbusters like the Jason Bourne movies, Argo, Austin Powers, and Steven Spielberg's Bridge of Spies.
Mixology expert Albert W. A. Schmid provides step-by-step instructions on setting up and stocking a bar worthy of 007 and pouring the drinks to match. Recipes include secret agent favorites like The Lucky Jim versus the Montgomery, Kurrant Affair, Pillow Talk, From Russia with Love, Bossanova, Betsy Flanagan versus the Manhattan, Dark'n'Stormy, and TNT. How to Drink Like a Spy also includes profiles of the most famous and notorious spies throughout history and a lexicon so you don't blow your cover when ordering your next drink.
If you want to support my blog, then you can buy a premium account through any of my files (i.e. on the download page of my book). In this case, I get a percent of sale and can continue to delight you with new books!