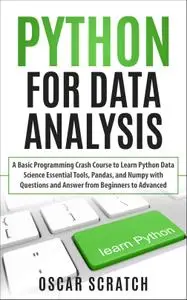 Python for Data Analysis: A Basic Programming Crash Course to Learn Python Data Science Essential Tools, Pandas, and Numpy with Questions and Answer from Beginners to Advanced
Oscar Scratch | 2019 | ISBN: 1696532051 | 247 pages | EPUB, PDF(conv) | 0.1 MB, 0.6 MB
If you want to learn from scratch how to use python simply, then keep reading. Did you ever think that programming code is not something for you? Did you ever think that it can't be simple and smart? Put away your credentials and get prepared to immerse yourself in a basic crash course of data analysis, Pandas and Numpy even if you are a beginner with no knowledge about programming.