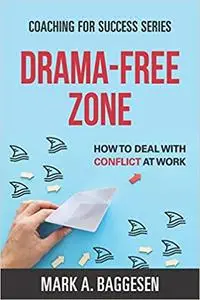 Mark Baggesen, "Drama-Free Zone: How to Deal With Conflict at Work"
English | 2019 | ISBN: 1698311818 | 119 pages | PDF | 0.62 MB
Ditch the drama, crush personal conflict, and get your office back on track…
Personal conflict in the workplace kills productivity, and makes your office a miserable place to work. Drama-Free Zone: How to Deal With Conflict at Work gives you proven tools to eliminate troublesome and unnecessary drama in the workplace, so you can be productive, work with others and leave the office happy and relaxed.
This book outlines simple, actionable steps to handle problems at the office, and shows you how eliminating drama can lead to a better life at work and home. Save the drama for the movies… Not the workplace!
After reading this book, you will:
Take a look in the mirror, and stop drama in your own life before you bring it work
Master your people skills, and build stronger, advantageous relationships with peers
Boost productivity, by creating a thriving, amazing environment for your employees
Build a rock-solid relationship with your manager or boss
Take simple, easy steps that will ditch Drama from your daily life for good
Everyone knows that interpersonal conflict at work is difficult, but most people don't do anything about it. Take control! Read Drama-Free Zone: How to Deal With Conflict at Work today, and build a healthy, productive environment where you and your employees will thrive.