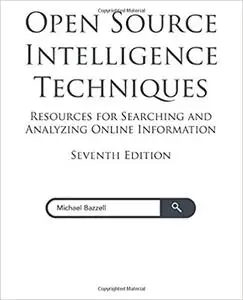 Michael Bazzell, "Open Source Intelligence Techniques: Resources for Searching and Analyzing Online Information Ed 7"
English | ISBN: 169903530X | 2019 | 575 pages | PDF | 96 MB
Completely rewritten 7th edition contains over 550 pages and 30 chapters!
It is time to look at OSINT in a different way. For many years, and within the previous six editions of this book, we have relied on external resources to supply our search tools, virtual environments, and investigation techniques. We have seen this protocol fail us when services shut down, websites disappear, and custom resources are dismantled due to outside pressures. This book aims to correct our dilemma. We will take control of our investigative resources and become self-reliant. There will be no more need for online search tools; we will make and host our own locally. We will no longer seek pre-built virtual machines; we will create and configure our own. This book puts the power back in your hands. The new OSINT professional must be self-sustaining and possess their own tools and resources. You will become a more proficient subject matter expert who will be armed with the knowledge and readiness to articulate the sources of your findings. Aside from eleven brand new chapters, hundreds of pages have been updated to keep your OSINT investigative methods fresh. Furthermore, an entire new section featuring Methodology, Workflow, Documentation, and Ethics provides a clear game plan for your next active investigation. All-new custom search tools, report templates, and detailed documents are included via download. Today, we start over.
7th Edition Updates
If you have the 6th edition of this book, you may want to know what has changed in this 7th edition. Overall, 1/2 of the book is brand new content, 1/4 is updated material, and 1/4 is recycled relevant instruction. The 7th edition is over 550 pages, but the retail price of the book remained unchanged. All expired and outdated resources were replaced with new methods throughout every chapter, and the OSINT flow charts were re-built to reflect all changes. All purchases include free download of a custom search tool which can be modified as needed and executed locally from your computers, custom Linux scripts to build your own virtual machines, and detailed cheat-sheets to simplify each process. The outline is below.
Introduction
SECTION I: OSINT Preparation
CHAPTER 01: Computer Optimization
CHAPTER 02: Linux Virtual Machine
CHAPTER 03: Web Browsers
CHAPTER 04: Linux Applications
CHAPTER 05: VM Maintenance & Preservation
CHAPTER 06: Android Emulation
CHAPTER 07: Custom Search Tools
SECTION II: OSINT Resources and Techniques
CHAPTER 08: Search Engines
CHAPTER 09: Social Networks: Facebook
CHAPTER 10: Social Networks: Twitter
CHAPTER 11: Social Networks: Instagram
CHAPTER 12: Social Networks: General
CHAPTER 13: Online Communities
CHAPTER 14: Email Addresses
CHAPTER 15: Usernames
CHAPTER 16: People Search Engines
CHAPTER 17: Telephone Numbers
CHAPTER 18: Online Maps
CHAPTER 19: Documents
CHAPTER 20: Images
CHAPTER 21: Videos
CHAPTER 22: Domain Names
CHAPTER 23: IP Addresses
CHAPTER 24: Government & Business Records
CHAPTER 25: Virtual Currencies
CHAPTER 26: Advanced Linux Tools
CHAPTER 27: Data Breaches & Leaks
SECTION III: OSINT Methodology
CHAPTER 28: Methodology & Workflow
CHAPTER 29: Documentation
CHAPTER 30: Policy & Ethics
Conclusion