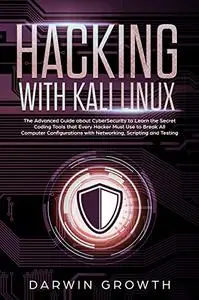 Hacking with Kali Linux: The Advanced Guide about CyberSecurity to Learn the Secret Coding Tools
that Every Hacker Must Use to Break All Computer Configurations with Networking, Scripting and Testing
by Darwin Growth
English | 2019 | ISBN: 1703355369 | 151 Pages | EPUB | 2 MB
Linux is a free and freely distributed operating system inspired by the UNIX system, written by Linus Torvalds with the help of thousands of programmers in 1991. Unlike other operating systems, UNIX is not intended to be easy to use, but to be extremely flexible. In fact, Linux is the best operating system for both programmers and hackers.