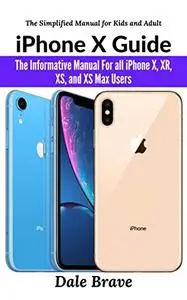 iPhone X Guide: The Informative Manual For all iPhone X, XR, XS, and XS Max Users:
The Simplified Manual for Kids and Adult
by Dale Brave
English | 2019 | ISBN: 1706162332 | 189 Pages | EPUB | 2 MB
Over-80 million people all over the world are iPhone users! Simply because iPhone cell phone is a hugely popular smartphone that offers many advances and convenient features, including a camera like no other, Siri, turn-by-turn driving directions, a calendar, and a lot more. But if you're just adopting the iPhone X series such as; iPhone X, iPhone XR, iPhone XS, iPhone XS Max, and even iPhone 11 and 11 Pro", for the first time, or you probably need more information on how to use your device optimally, this book is your best companion.