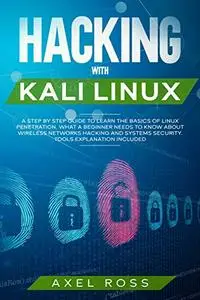 Hacking with Kali Linux: A Step by Step Guide to Learn the Basics of Linux Penetration.
What A Beginner Needs to Know About Wireless Networks Hacking and Systems Security. Tools Explanation Included
by Axel Ross
English | 2019 | ISBN: 1708223843 | 105 Pages | EPUB | 2.41 MB
Modern-day hacking has become more sophisticated than ever. Hacktivists groups, ransomware, and highly classified document releases are a daily problem. In modern times, the ethical hackers are needed more than ever to protect and prevent hack attacks. The information available to everyone makes it all the easier for hack attacks, but it makes protection available as well.