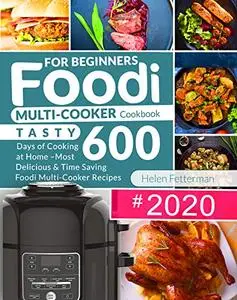 Foodi Multi-Cooker Cookbook for Beginners: Tasty 600 Days of Cooking at Home – Most Delicious & Time Saving Foodi Multi-Cooker Recipes by Helen Fetterman
2019 | ISBN: 1708806490 | English | 102 pages | EPUB | 0.4 MB
If you ever thought that cooking delicious Foodi recipes that are healthy was difficult, I completely understand you. However, from now on thanks to the cutting-edge technology of the new favorite kitchen appliance, you will be able to cook fantastic recipes in no time. That´s why this is the only Foodi Multi-Cooker Cookbook that you will ever need.
The ultimate beginner's guide for using this one-of-a-kind appliance, the Foodi Multi-Cooker Cookbook for Beginners includes:
-Helpful Tips and Tricks
-Amazing meals the whole family will love.
-Most recipes made for anyone with a busy lifestyle.
-Detailed ingredient lists and precise cooking times so each dish turns out perfect.
-Ninja Know-How.
-Breakfast Recipes
-Protein-Rich Poultry Recipes
-Fish and Seafood
-Crispy Snacks
-Savory Beef, Lamb, and Pork Dishes
-Classic Sides Snacks and Appetizers
-Plus much more helpful information.