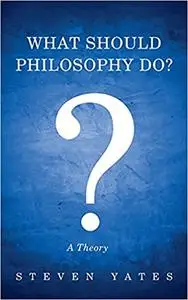 Steven Yates, "What Should Philosophy Do?"
English | ISBN: 172526367X | 2021 | 326 pages | EPUB | 4 MB
Philosophy as an academic discipline has fallen on hard times. Its practitioners might retort that never have there been so many books, articles, blogs, etc. But quantity is not quality, and while philosophers are graduating with PhDs few are finding adequate employment, and this is just the most visible problem. The question, What Should Philosophy Do?, is going begging, and the social justice warriors have tried to transform it into one of their political platforms right along with the rest of the liberal arts or humanities. In this book, philosopher Steven Yates revisits the question anew and comes up with a fresh perspective. He argues that philosophy is not a mere academic discipline, that it has a job to do in civilization that transcends its academic niche. He argues that philosophy should identify, clarify, and evaluate worldviews–noting their contributions, noticed as such or not, to the conversations of civilization, examining their capacity to solve problems, their consistency, and their overall adequacy in helping us live. Yates concludes that we should revisit the Christian worldview, and perhaps other worldviews, as part of an intellectual move towards a philosophical pluralism that emphasizes the freedom and intrinsic value of persons and could provide an alternative to the technocratic world order towards which we are presently heading at breakneck pace.
Read more