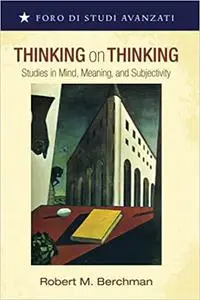 Robert M. Berchman, "Thinking on Thinking: Studies in Mind, Meaning, and Subjectivity "
English | ISBN: 1725273810 | 2021 | 456 pages | EPUB | 3 MB
Aristotle and Plotinus set the horizon of inquiry—thinking is thinking on thinking. Discussion of mind, meaning, and subjectivity begins with the question, How is thinking on thinking different from the kind of thinking with which we are familiar? The answer is that 'thinking on thinking' is about the presuppositions, concepts, and problems that generate questions in ancient and modern metaphysics, epistemology, aesthetics, philosophy of mind, and philosophy of language. Topics examined include the nature of intentionality and meaning, identity and relation, mind and consciousness, self-identity and subjectivity—which lead into discussions concerning other minds, the limits of thought and language, and the emergence of aesthetics of the self. The effects of 'thinking on thinking' are mapped, particularly in parsing problems in ancient, modern analytic, and phenomenological thought, with advocacy of its importance in the present age.