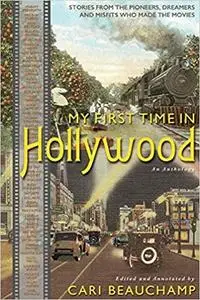 Cari Beauchamp, "My First Time in Hollywood"
English | 2020 | ISBN: 1736198106 | 338 pages | AZW3 | 7.7 MB
Over forty legends of the film business recount their first trip to Hollywood. Actors, directors, screenwriters, cinematographers, and editors-half of them women-recall the long joinery, their initial impressions, their struggle to find work, and the love for making movies that kept them going. Drawn from letters, speeches, oral histories, memoirs, and autobiographies-and illustrated with over sixty vintage photographs and illustrations-each story is intimate and unique, but all speak to our universal need to follow our passions and be part of a community that feeds the soul. This anthology is edited and annotated by award-winning author and film historian Cari Beauchamp, the only person to twice be named as an Academy of Motion Picture Arts and Sciences Scholar. Of MY FIRST TIME IN HOLLYWOOD, Academy-Award-winning film preservationist, historian, and author Kevin Brownlow writes: "What every film fan years for-first-hand, eyewitness accounts of a Hollywood none of us can remember and all of us wish we'd known. Completely fascinating." And film critic and historian Leonard Maltin writes: "What a priceless parade of evocative and highly entertaining memories. Once you start reading you won't want to stop."