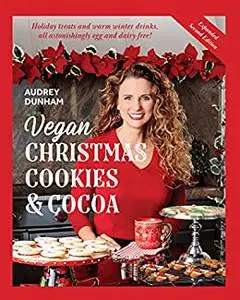 Vegan Christmas Cookies & Cocoa: Holiday treats and warm winter drinks, all astonishingly egg and dairy-free! by Audrey Dunham
English | ISBN: 1736760106 | 104 pages | EPUB | November 9, 2021 | 13 Mb
**Made Veg News' list of "Top 10 Vegan Cookbooks of the Holiday Season! (2020)"**
Vegan Christmas Cookies and Cocoa provides home bakers of all levels with incredibly decadent "veganized" versions of the cookie classic recipes we all know and love! All recipes are simple to make and call for ingredients that are easy to find in grocery stores and online.
Audrey Dunham, the creator of Peanut's Bake Shop® Cookie Kits, has once again worked her cookie-making magic with a fun and festive book dedicated to one of the best activities of the holiday season—baking and enjoying Christmas cookies!
This colorful, heartwarming cookbook includes crave-worthy dairy-free and egg-free recipes for:
All of your favorite Christmas cookie classics
Brownies
Bars treats
Hot cocoas
Winter lattes
Homemade marshmallows
And so much more!
Also included are recommendations on how to make each and every recipe gluten-free!