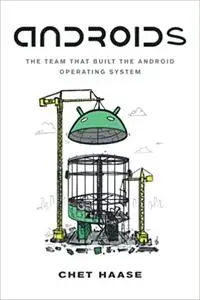 Androids: The Team That Built the Android Operating System by Chet Haase
English | ISBN: 1737354829 | 2021 | 412 pages | True EPUB | 67.2 MB
Note: This is the color edition (all interior images are in color). To see the black & white edition, click the "See all formats and editions" link above.
In 2004, Android was two people who wanted to build camera software. But they couldn't get investors interested. Today, Android is a large team at Google, shipping an operating system (including camera software) to over three billion devices worldwide.
This is the inside story, told by the people who made it happen.
"What are the essential ingredients that lead a small team to build software at the sheer scale and impact of Android? We may never fully know, but this first person account is probably the closest set of clues we have."
–Dave Burke, VP of Android Engineering
"Androids captures a strong picture of what the early development of Android, as well as the Android team, was like."
–Dianne Hackborn, Android Framework Engineer
"Androids is the engaging tale of a motley group of coders with a passion to make insanely great products who banged out the operating system when that idea seemed nuts.
True to his geek genes, Chet Haase tells this remarkable tale of technical and business success from the trenches, an inspiring, massive collective effort of dozens of programmers who flipped their seemingly late timing to their advantage, and presaged a generation of platform builders. Read Androids to discover what it takes to create a hot tech team that shipped a product running today on more than 3 billion devices."
–Jonathan Littman, co-author of The Entrepreneurs Faces: How Makers, Visionaries and Outsiders Succeed, and author of The Fugitive Game
All profits from the book will be donated to charity.