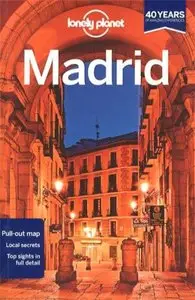 Anthony Ham, "Lonely Planet Madrid (Travel Guide)"
English | ISBN: 1742202179 | 2013 | EPUB | 256 pages | 53 MB
"No city on earth is more alive than Madrid, a beguiling place whose sheer energy carries a simple message: this city really knows how to live."—Anthony Ham, Lonely Planet Writer
Getting you to the heart of a place
Amazing experiences Inspirational images, 3D illustrations, city walks and the best of local knowledge.
Plan the perfect trip Planning features and top itineraries give you the freedom to create your ideal trip.
Get off the beaten track Our authors uncover local secrets that will make your trip unique.
Special features
Museo del Prado in 3D
Like a Local feature
Understand Flamenco
Day Trip to Toledo
We tell it like it is
Our job is to make amazing travel experiences happen. We visit the places we write about each and every edition. We never take freebies for positive coverage, so you can always rely on us to tell it like it is.