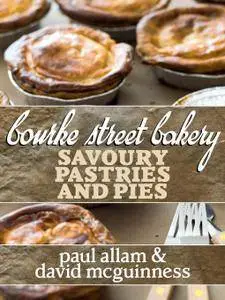 Bourke Street Bakery: Savoury Pastries and Pies by David McGuinness and Paul Allam
English | 2009 | eISBN: 1743362552 | eISBN-13: 9781743362556 | ASIN: B0087GKFA4 | 106 pages | EPUB | 19,4 MB
The popular Sydney Bakery shares the secrets of its irresitable savoury pastries and pies.
Situated in the hip foodie enclave of Sydney's Surry Hills is the original Bourke Street Bakery, a cosy nook selling artisanal baked goods of the highest order. The bakery's long queue of customers waiting for their daily fix is testament to the popularity of their utterly delicious wares - from rustic breads such as their famous spelt sourdough to the flaky pork and fennel sausage rolls and the most addictive sweet pastries like ginger brulee and pistachio tart.
In Bourke Street Bakery - Savoury Pastries and Tarts, Paul and Allen share the recipes of their famous savoury treats with clear and concise instructions, aimed at the novice home baker while remaining an inspirational and technical reference for professionals of the crust and crumb world.
Recipes include: Humble beef pie; Chicken pies with eggplant and mushroom; Beef and bean sausage rolls; Chickpea rolls; Pork, apple and braised red cabbage pie; Lamb, harissa and almond sausage rolls; Spinach ricotta pie; Pork fennel sausage rolls; Ratatouille pie; Lamb, chickpea and eggplant pie; Rabbit quince pie; Chickpea, goats curd and eggplant empanadas; Beef empanadas; Goat's cheese and leek tart; Asparagus and gruyere quiches; Fig, prosciutto and gorgonzola pissaladiere; Red capsicum, anchovy, olive and goat's cheese pissaladiere.
All titles in this series: Bourke Street Bakery - The Collection Bourke Street Bakery - Breads Bourke Street Bakery - Savoury Pastries and Pies Bourke Street Bakery - Sweet Pastries and Tarts Bourke Street Bakery - Cakes and Biscuits