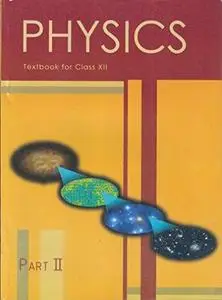 Physics Text Book Part - 2 for Class - 12 By J.V. Narlikar, A. W. Joshi et al.
2007 | 260 Pages | ISBN: 8174506713 | PDF | 5 MB
This book is the result of the renewed efforts of the present Textbook Development Team with the hope that the students will appreciate the beauty and logic of physics. The students may or may not continue to study physics beyond the higher secondary stage, but we feel that they will find the thought process of physics useful in any other branch they may like to pursue, be it finance, administration, social sciences, environment, engineering, technology, biology or medicine. For those who pursue physics beyond this stage, the matter developed in these books will certainly provide a sound base. Physics is basic to the understanding of almost all the branches of science and technology. It is interesting to note that the ideas and concepts of physics are increasingly being used in other branches such as economics and commerce, and behavioural sciences too. We are conscious of the fact that some of the underlying simple basic physics principles are often conceptually quite intricate. In this book, we have tried to bring in a conceptual coherence. The pedagogy and the use of easily understandable language are at the core of our effort without sacrificing the rigourof the subject. The nature of the subject of physics is such that a certain minimum use of mathematics is a must. We have tried to develop the mathematical formulations in a logical fashion, as far as possible.