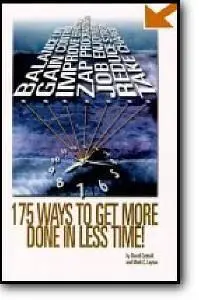 David Cottrell, Mark Layton, «175 Ways to Get More Done In Less Time»
Cornerstone Leadership Inst | ISBN 0965878848 | 2000 Year | CHM | 0,4 Mb | 56 Pages
Want to get things done faster so you can accomplish more of your long-term goals? Okay. We'd all like that to happen. But the question we finally have to ask is "How can I do that - get more things done in less time?
This book is loaded with ideas. Now, don't expect smoke and mirrors here. And don't look to magically pull a few extra hours for your day out of thin air. Nope, there's no magic formula. But, between the front and back covers of thei book you'll find 175 really really good suggestions that will help you get things done faster … and usually better.

Before you know it, you're back in control - actually achieving those goals you've set for yourself.